Processing lines / egg transport and storage
OVO—TANK

system for the transportation and storage of liquid egg
Tanks with automatic cleaning system CIP

We deliver complete egg processing lines along with the
OVO—TANK system

for the transportation and storage of liquid egg
OVO-TECH machines provide the client with a complete solution for breaking eggs and storing the obtained liquid egg, while maintaining highest hygienic standards. Eggs are first mechanically washed with the use of water and detergent, then disinfected with the use of UV-C light, which kills bacteria and viruses. Nest, the eggs are cracked with or without yolks/whites separation. The liquid egg is then filtered by our wedge wire filtring system, and is then pumped into tanks where it is stored according to production's demand.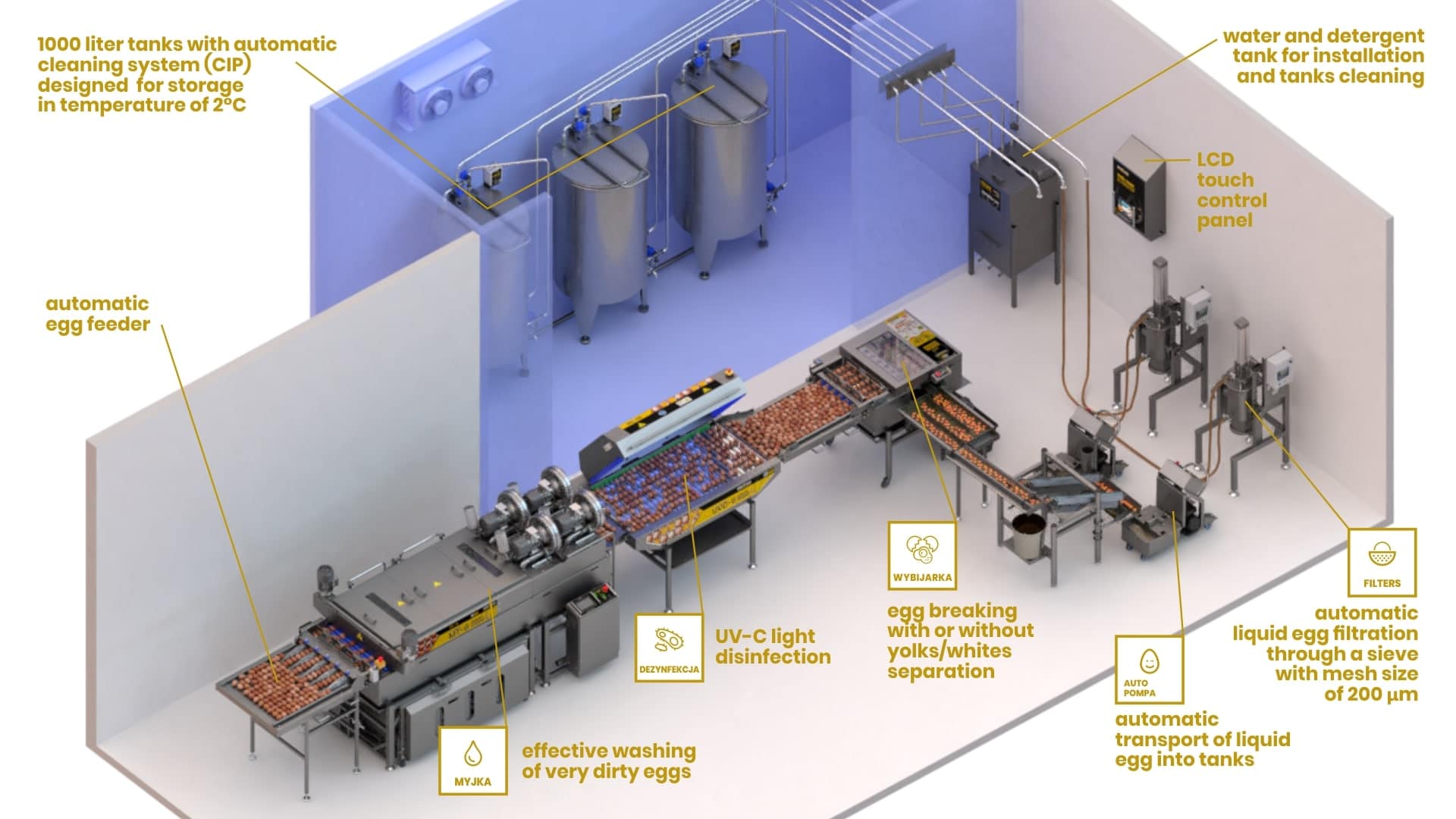 Why our solution will meet your expectations?
The OVO-TANK liquid egg transport and storage system is designed to automate the workflow in bakeries, pasta making companies and other egg processing facilities. OVO-TANK allows for the storage of liquid egg while maintaining highest hygienic standard. Three stage operation of the machinery allows for an automatic cleaning of tanks without an interruption in the production process.
1. 

filling the tank with liquid egg
2. 

cleaning of the pumping system
3. 

cleaning the tank and installation
DESTINATION: Egg breaking facilities, bakeries, confectioneries, pasta making companies.
CAPACITY: adapted to the client's expectitions

POWER SUPPLY:   30 kW 400 V 3/N/PE 50/60 Hz,
soft water (<200mg CaCO3/l) 0.05 – 0.7 MPa
MINIMAL WORKSPACE: adapted to the client's expectitions
WEIGHT: 120 kg [265 lbs]

ADDITIONAL INFORMATION
Entirely automatic egg transport and storage system with separate tanks for yolks, whites and mix. It has a built in Clean-in-Place system.
Available ways of transportation

* US and UE only